From time to time we like to focus on the challenges purchasing pros have within the hospitality community. They often find themselves caught between the needs of designers, vendors, and of course the project's owners.
Purchasing professionals must negotiate an array of demands to deliver great products on time, and of course within budget. We have addressed some of the larger issues with Steven A. "Gus" Sarff III, President of GS Associates, Newburyport, MA. Gus shares his strategy of finding success in a continual sea of challenges.
Understand the Big Picture

"We see this as project outcome where buying and designing is a part of it," says Sarff. "It's our job to help in all aspects of the process as we see a transformation from very detailed drawings, to a spec and a photo, and finally delivery. We coordinate all the information from interior designers to make this happen."
It's also why GS Associates utilizes a project orientation program with the selected designer. As soon as a project is awarded, a meeting is set to create expectations while mapping out a plan on how to achieve project goals.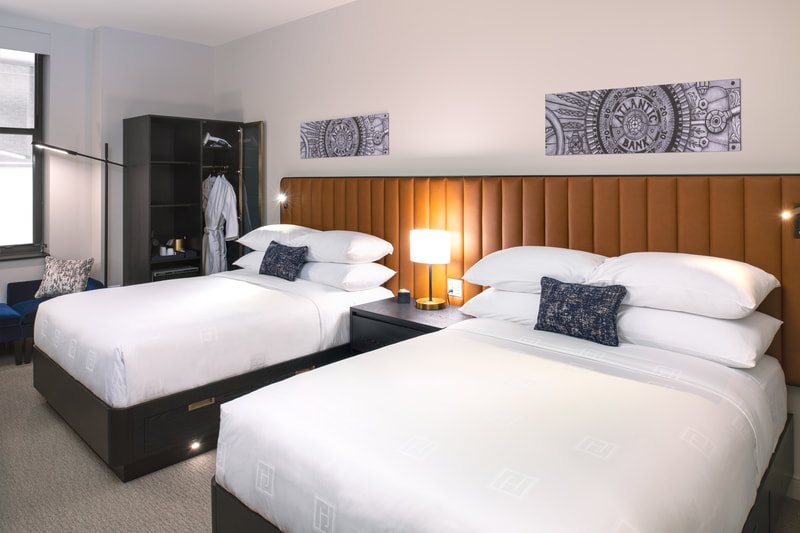 Hotel Julian- Designed by Gettys Group Purchased by GS Associates

Negotiate Expected Purchasing Challenges
Sarff says one of the biggest challenges we have is the quality of design documentation. "This can affect the schedule if not done right. Many times, the nature of a project timeline doesn't give us time to go through the process in the time we'd like.
Therein lies the challenge of what we do. We struggle because we feel it's important to deliver a project on time and on budget, so we [focus heavily] on early intervention and preventative review to explore issues before they happen. We want to avoid those problems biting us, so we're continually working on procurement software that's streamlining our processes."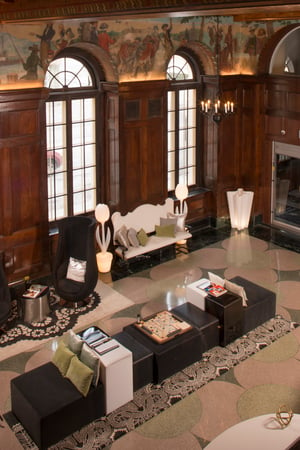 A 'Material' Effort
"When it comes to buying furniture, the goal is balancing the right materials and budget. Sarff says when the company receives designer specs, the team goes out to market to look at material options and resolve functional issues to arrive at the right mix of materials and design. "
Be warned, Sarff says. Owners will never step away from long-term commercial durability. "We have to get 10 years out of a piece of furniture. While wood species and veneers are subject to change, you cannot change the quality of the joinery and quality of the finished products," Sarff says. "We are getting designer specs and going out to market. From a joint effort of the team, designer and owner we look at material options to resolve functional issues and arrive at options for the design intent.

Albany Renaissance Designed by Cauhous Design Purchased by GS Associates

Plan, Plan and Plan some more
You must expect the unexpected, so plan accordingly say our experts. Schedules can slip, holidays abound, and other circumstances can work against your timeline. "We always leave in slack-time for unforeseen situations, but we also make sure everyone has their eyes open and are paying attention," Sarff says.
When asked about a realistic timeline from start to end of a project, Sarff says the more time the better. "The schedule is so important. You have to wait for approvals, and you don't want rush manufacturing because that'll result in problems," he says.
Of course, there's the other side of the spectrum too. About 12 years ago they were asked to complete a project that June. The problem; it was already February. With great planning and a network of resources, GS Associates got the custom project completed on time. Or as it turned out, early. After all the fuss, the hotel was behind schedule and still under construction when they delivered the furniture!
Eat and Stay Educated
Sarff says keeping his group of 24 educated is essential for his company's overall success. The firm does on average 30 or so projects annually, so they get a lot of education though research on the job. He also maintains a robust lunch and learn strategy, as well as a commitment to hotel industry events as ways of keeping his team up on the latest. "We do have vendors come to the office regularly and we also go to industry events. Plus, we do lots of research."
Sarff's wisest advice? "Talk to old guys like me," he says half-jokingly. "But also, never stop learning. Be a sponge, open your eyes and talk to all types of people."
What hospitality sources do you go to for increased knowledge and inspiration?

Comment Below