This month we are investigating how those tasked with purchasing furniture approach their role in delivering a long lasting product that pleases both ownership and guests, all while anchoring the in-room experience. We connected with two industry superstars; Joe Motley, Program Manager at Walt Disney World, and Neil Locke, principal at Neil Locke & Associates, and asked them to share their thoughts on the importance of buying the right quality furniture at the right price.
How do you think furniture relates to overall hotel ROI?
Joe Motley explains that this no easy feat to fully understand. "That is tough for us, even as we own and operate our hotels. Most interesting for us, we don't discriminate against the various quality segments. I do not purposely buy less expensive FF&E for our value products simply so I can buy a higher quality product for our deluxe resorts. I am still putting quartz on every horizontal surface, for example, because I need that resiliency. The value resorts can suffer more wear and tear from many groups, such as cheerleading teams, so the product must hold up. However, there is more "stuff" in deluxe rooms compared to moderate and value rooms. We prefer focusing on total cost of ownership rather than ROI.
Locke says furniture ROI is framed through a psychological context. "If the furniture looks good, the guest feels they made a smart decision regarding the price they paid for a hotel room. That contributes significantly to ROI. Of course, the opposite can be true too. If furnishings look awful, that makes it bad investment for ownership.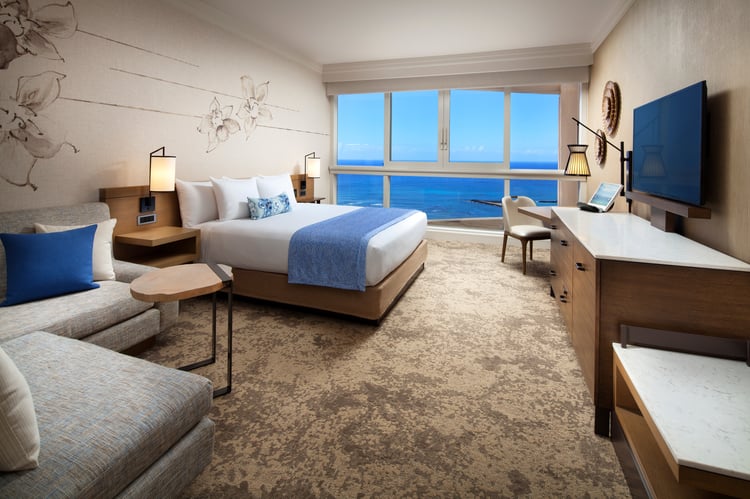 Quartz top custom Dresser/ Desk- Hawaii Prince Waikiki - Designer: Creative Resources Associates Purchasing: Suma International
How often do you see a spec package calling for marine grade substrate for a vanity?
"We see this mostly in places where there's typically a lot of water, the bathroom for example," says Locke. This is essential, because the investment in that space must be protected. If you do not spend the money up front, you'll quickly regret it.
Motely says the material is regularly sourced as part of spec packages for the central Florida Resort, noting the material simply looks better for a longer period. That's a critical component for the guest experience, who typically have high expectations when staying at a Walt Disney World resort. "It lives up to visual expectation. We err to the more robust part of the substrate spectrum, and do that with expectation there will be a lot of internal pushback. From a bid standpoint, it is the most difficult thing to consistently instill as part of the process, given its price compared to other alternatives.
How do you balance design concept, practicality and budget on behalf of ownership?
We realize everything is guest experience, and because of that, we do not focus on a specific price per item in the room. Over time, I realized it's better to have a pricing parameter for the entire room. It's better to say we have $25,000 to spend per room rather than $452 for a dresser and $75 for a nightstand, for example," says Motley. "It's a more flexible way at looking at things."
Locke says achieving the right balance is about proper communication. "There must be constant contact between team members. That allows for a better process, making way for smarter value engineering that doesn't interfere with the quality you are looking to achieve. If people are open and honest, there's a huge probability you can achieve all those common goals," he says.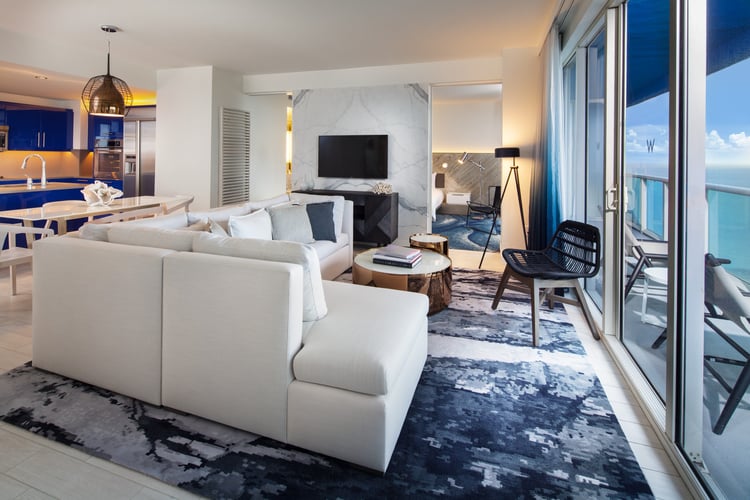 W Fort Lauderdale- Design: Meyer Davis Purchasing: Neil Locke
"Long lead times and late deliveries," says Locke. "If it's a new hotel, and the furniture isn't there, the hotel cannot open and start achieving revenue to pay down that construction loan. During renovations, there are also many issues, such as older furniture lingering in a new room. Or those rooms simply cannot be rented at all. Even if the party at fault pays, it still affects operations one way or the other."
"The horizontal surface is one area we spend an inordinate amount of time focusing on," Motley says. "We are totally committed to a manmade quartz on every appropriate surface because of its durability. But at times that can become almost too much if you do not balance it with warmer materials. Our guests have a quality expectation that does not allow for lack of quality."
How might you change the process of designing and procuring furniture to impact the total cost?
"During the last two years, we have taken a hard look at our developmental process. We have made some quantum changes. Speed to market is important, for example, because I am sitting on a machine that never stops. We're also trying to reduce renovation time in the field, which is always a healthy exercise," says Motley.
Locke takes a different approach, saying what works best is hiring the purchasing agent and designer, simultaneously. "The designer and purchasing agent have common interests but different skill sets. By collaborating collegially, they can discuss vendors suitable for the design. That streamlines the project, even if the project is still out for bid" he says.
How important are LED specs, and must they be UL rated for furniture?
"We have made a corporate commitment to go 100% LED, and it all must be UL rated. Even properties not in the queue for a rehab within the next 18-months are getting full re-lamping as part of an independent program," says Motley.
"At this point it's the obligation of the vendor to ensure all LED products are UL rated always," says Locke.There is a critical distinction between UL rated LED and that rated specifically for furniture application. For the sake of safety and better understanding, please click here to read our whitepaper and learn how Samuelson Furniture strictly adheres to only UL rated LED for furniture.
The overall lesson; maximizing longevity and quality for FF&E products is a complicated task requiring creative problem solving. But most important, FF&E must have the rigor to stand up to the two toughest audiences of all, ownership and cheerleaders.