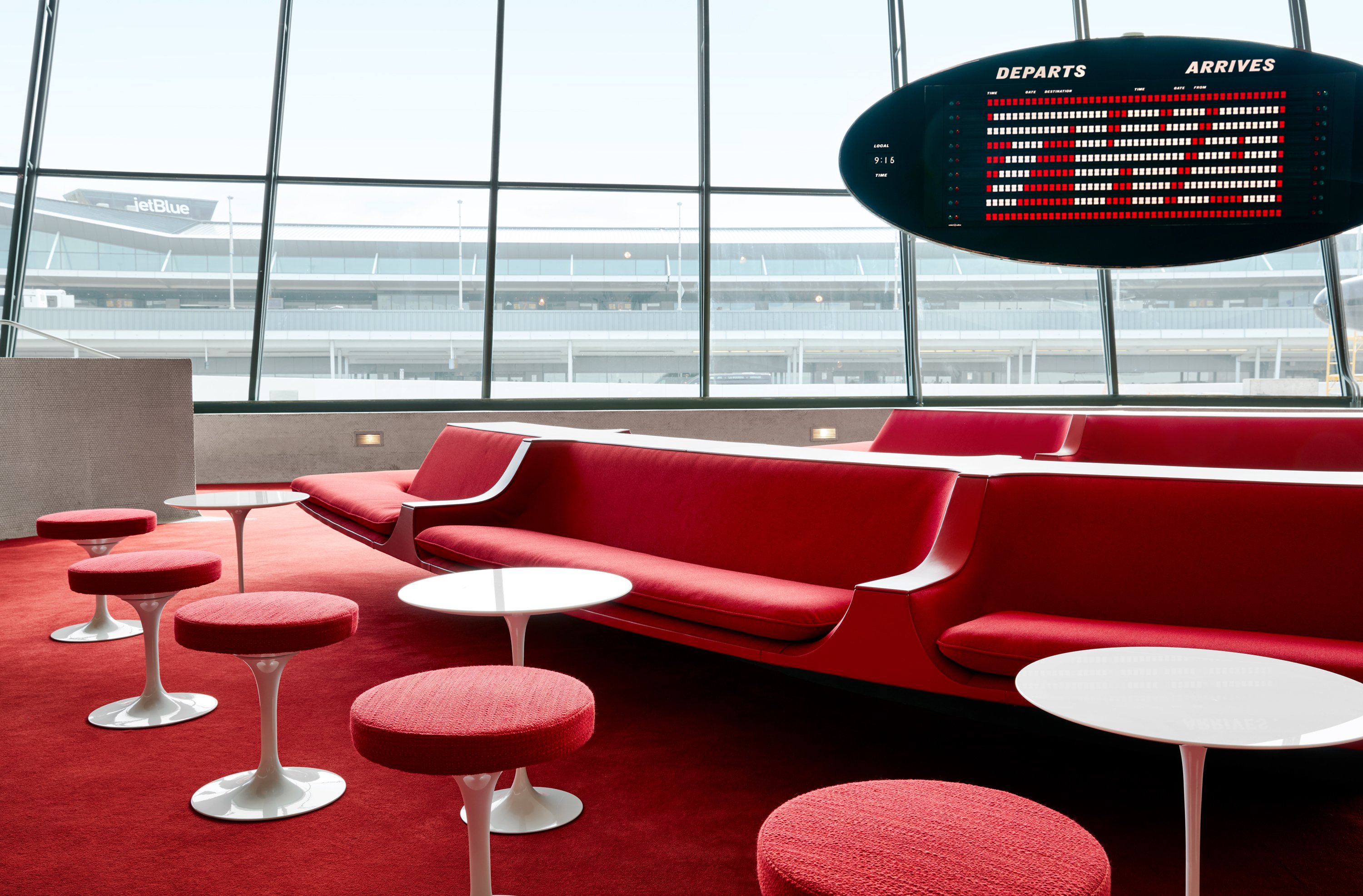 Already heralded as one of the most anticipated hotel openings this year, and maybe even the decade, the new TWA Hotel is a remarkable salute to the golden era of air travel. Housed in the former TWA terminal at JFK airport in New York, the property pays tribute to the 1960's design aesthetic by staying true to that era, all thanks to some incredible design.
This month we are speaking with two individuals intimately involved in the creation of this fantastic project, to learn what it's like celebrating that era, recreating an iconic mid century design aesthetic, and uncovering the unique challenges of meshing today's standards with the look of yesteryear.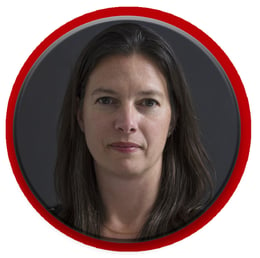 Sara Duffy, - Senior Interiors Associate
Stonehill Taylor

How do you incorporate new technology into a vintage design?
The whole concept was inspired by the year 1962, when the original TWA terminal made its debut, so there were numerous elements we focused on to bring technology to a vintage aesthetic. I think the most interesting thing is that every room has a 1950's Western Electric 500 rotary phone retrofitted with modern technology. Of course, we also wanted to make sure it was easy to plug in electronics with outlets at the bed, desk, minibar and bathroom.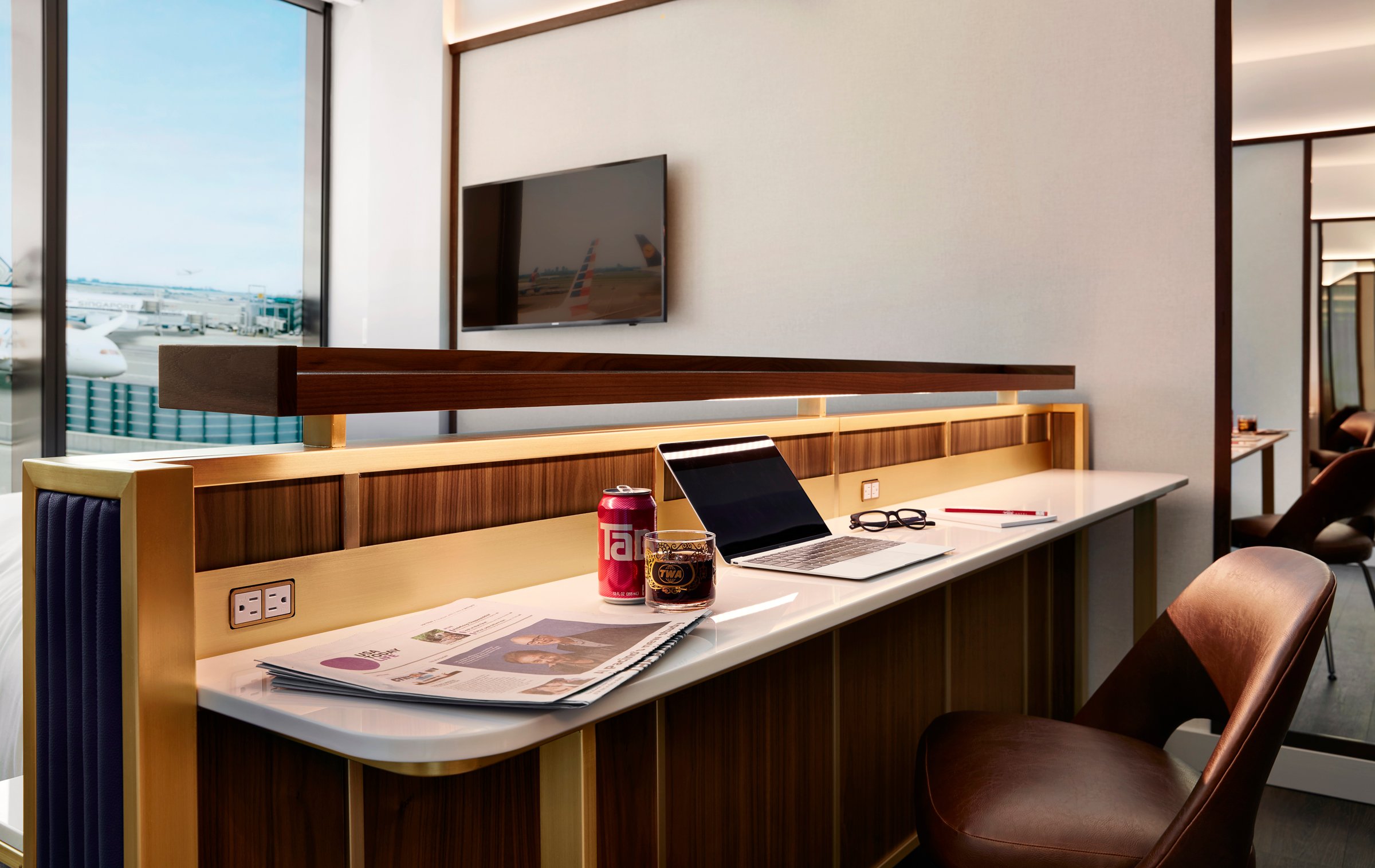 Photo credit: David Mitchell
What were the pros and cons of using the original structure of the terminal?
Our original scope was the guestrooms, which are housed in two new structures. The challenge we faced was making the guestroom design stand on its own, while still letting the Saarinen building be the real star. As designers, being associated with an Eero Saarinen building is awesome and overwhelming. We felt honored to be a part of this.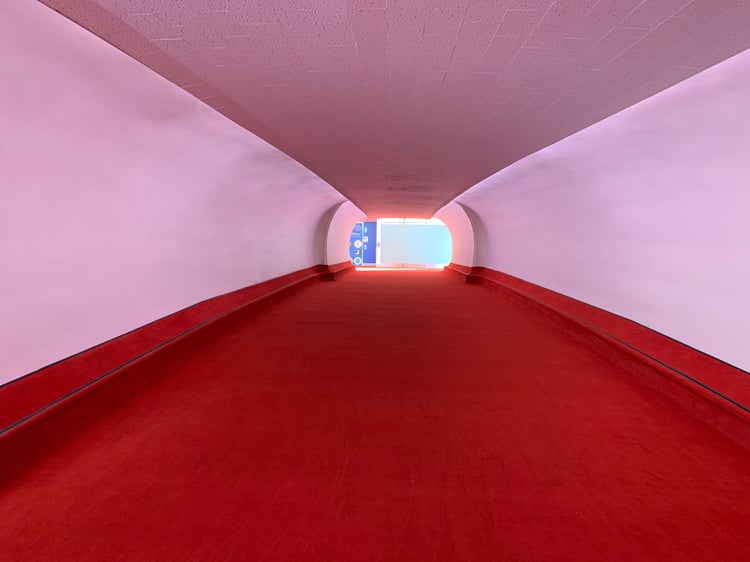 How did you turn an empty shell of a plane into the Connie cocktail lounge? How did you find the seating?
We were so excited when Tyler Morse [MCR Development] asked us to design the inside of the Connie. Our edict was that it had to be 1962 but feel luxurious and give guests a taste of what travel was like in the golden age. We sourced 12 original Connie seats, and we had them upholstered with fabrics reminiscent of that era. Then we designed banquettes that line either side of the plane paired with small tulip tables, giving the space a more cocktail lounge feel. Fun fact, The Connie (or Constellation jet) has a navigator's station with a window in the ceiling where the pilots could look at stars and direct the flight team.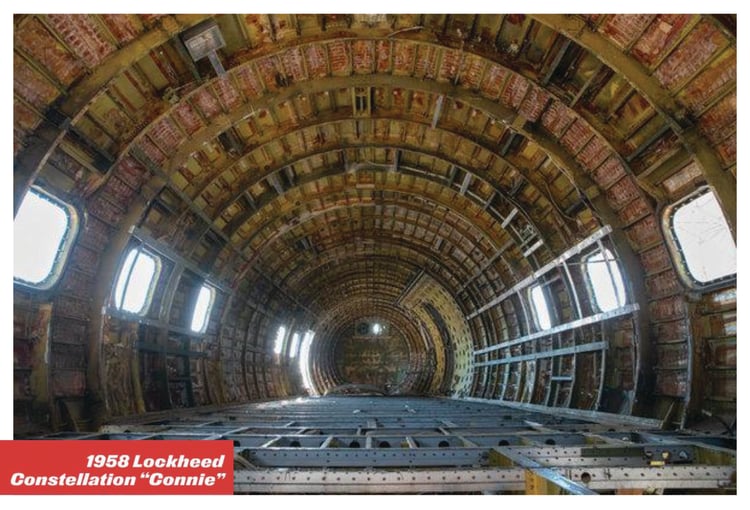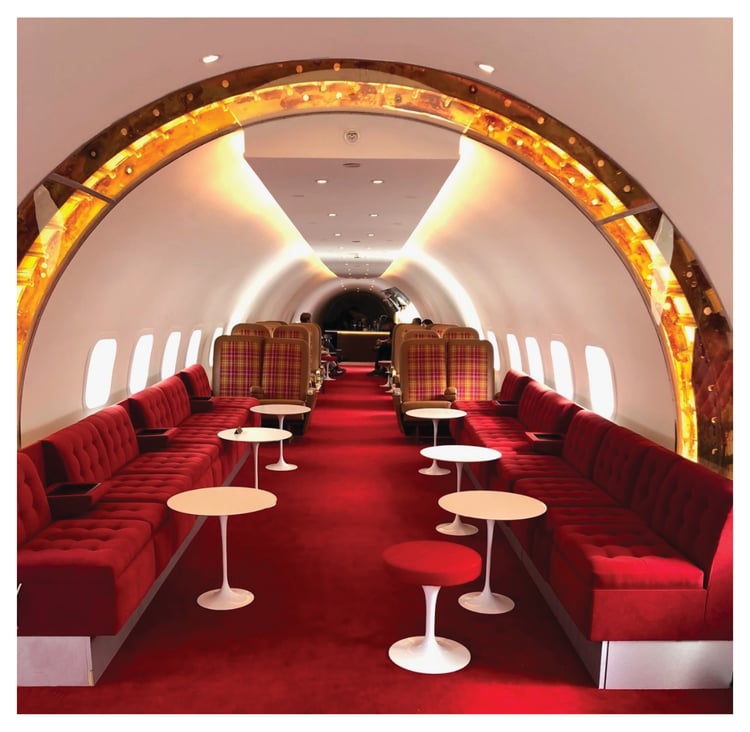 Luxury looked a lot different in the 60's than it does today, how did you create a luxury hotel and incorporate what luxury was then?
The obvious impact is from the moment you walk in. For example, people are dressed from the era wearing classic baggage claim uniforms. Everyone has vintage costumes on and every detail makes you feel like you've been transported to 1962.
How did Samuelson work with you?
They were very involved in the process. They are a great partner and extremely responsive and happy to help us through the entire process in every way. We spent a lot of time at the factory with the prototypes, refining every detail.
What considerations did you take into effect when choosing a furniture maker?
It is all about relationships. We wanted to work with someone we knew and like, and we have a strong record working with Samuelson on variety of projects. Plus, it is important to find the right balance between budget, quality, and design.
How involved were you with the casegoods and seating manufacturer in engineering and developing this product. How did Samuelson make a difference?
Our whole team was super involved. Details such as placement of the headboard seams were critical for us to discuss because each headboard had to arrive in three pieces just to get it in the building. Everyone had to come together to make this project successful.
What design elements did you include in the casegoods to make it feel vintage?
We used materials such as walnut tambour, which was very much of that era. Additionally, thin tufting which was popular in 1962, and brass accents bring that whole thing home.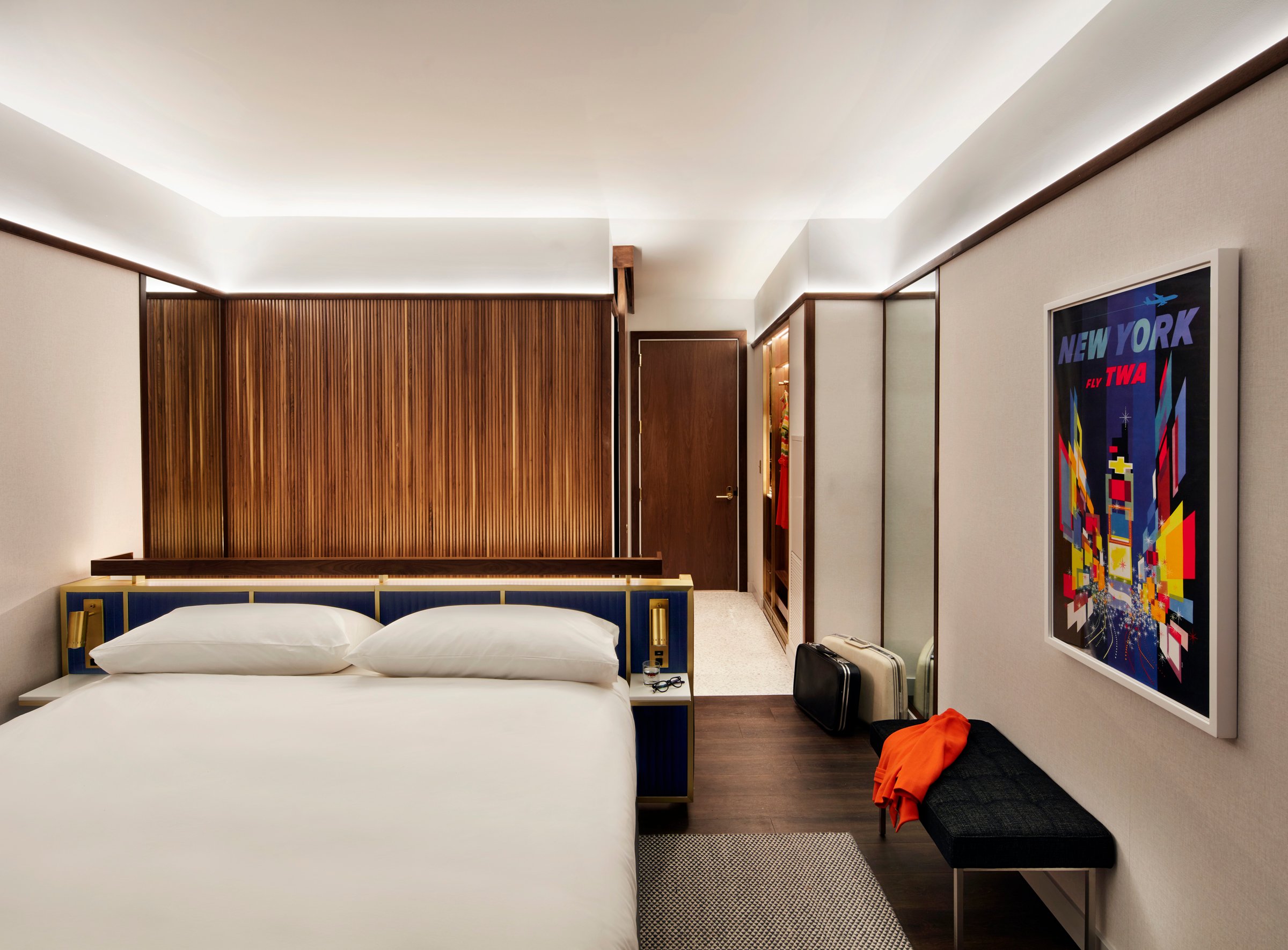 Photo Credit: David Mitchell

What design elements from the 60's inspired you through this design?
Of course, our biggest inspiration was Saarinen's design work itself as well as other mid-century standards. We wanted to dig deeper into the history of the building and the era. As soon as we started the project, we dove into research. I think we own every book on TWA, Saarinen and aviation in the 1960s. We also watched documentaries and went to libraries. All of it informed our design. We also took inspiration from Saarinen's contemporaries, like Florence Knoll and Alexander Girard. Importantly though, we did not want the guest to feel like they had walked into a museum or a room filled with 1960s paraphernalia. We needed to create a space that felt refined and contemporary.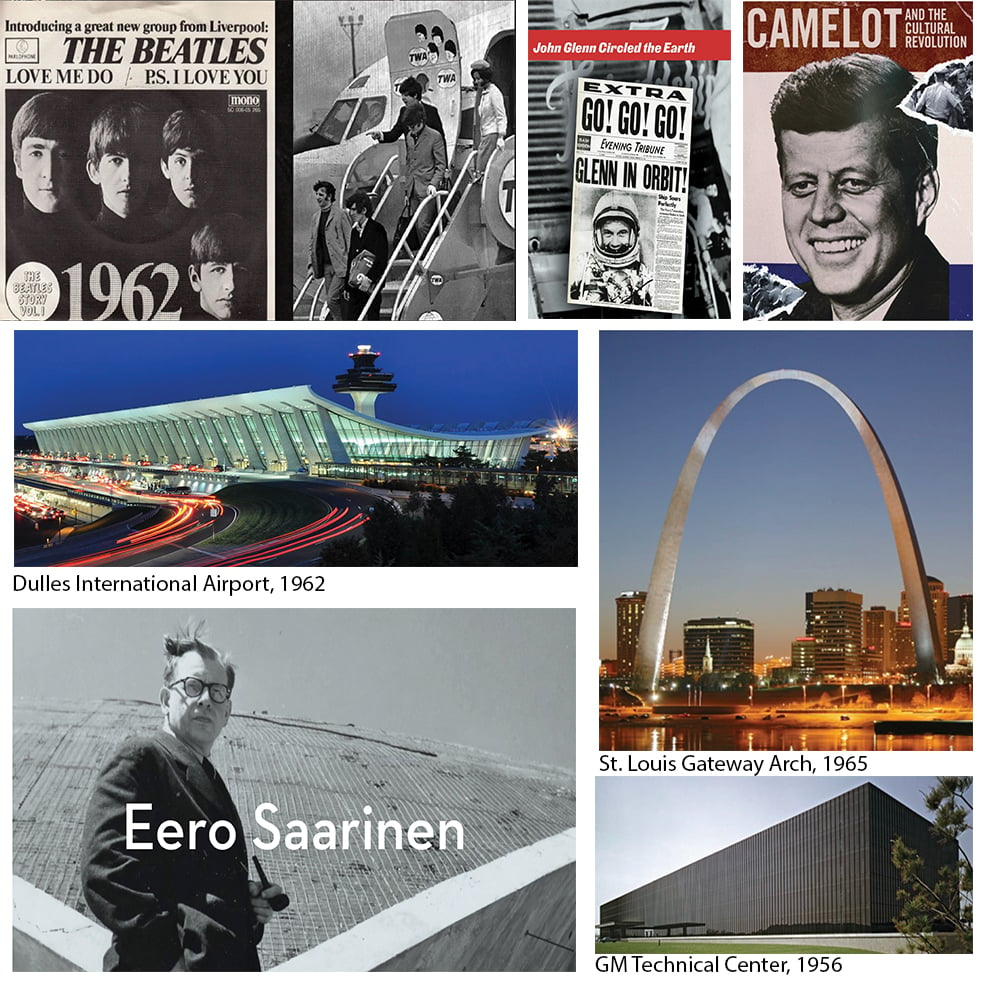 Inspiration images provide by Stonehill Taylor
How did Samuelson help make this project successful?
Their ability to problem solve, work with us on cost, and anticipate any potential issues, made them a fantastic partner for this monumental project.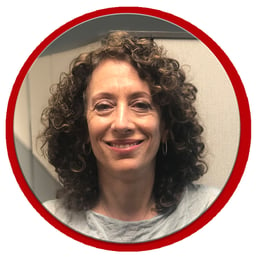 Nancy Smith- Senior Project Director
The Parker Group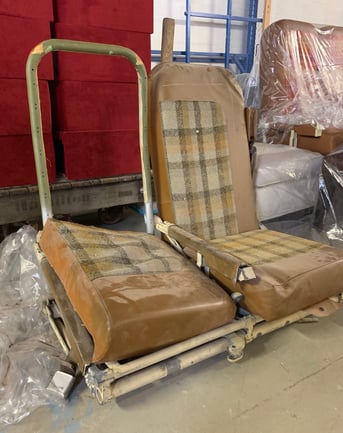 How many items did you have to source for TWA- anything especially hard to find- anything you did find last minute with a good story?

We sourced the entire FF&E package for the project as part of our role working with four different design teams. This encompassed the rooms and various public areas.
One of the novelties we sourced were the old TWA airplane seats, (complete with remains of cigarette butts in the pull out ashtrays) found in a Miami warehouse, with the original upholstery. Samuelson reconditioned and reupholstered the chairs to make them a focal part of the bar's seating. Samuelson was one of several main vendors whom we were reliant upon to bring success to this project.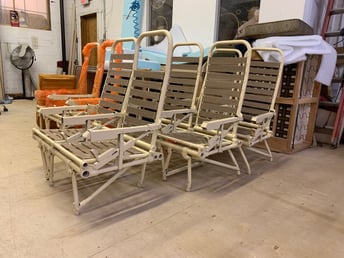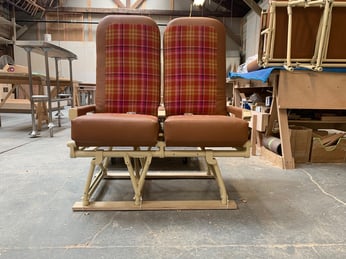 What considerations did you take into effect when choosing a furniture maker?
The company selected to participate in this project needed to execute the designer's vision well, offer the right price point, and provide a quality product, on time, due to schedule. Samuelson satisfied all of those requirements. After multiple model rooms purchased during the sourcing phase of the project, we found that Samuelson was the right choice. Samuelson's local presence was also important, as well as their deep commitment they display when working with us. In the end, there was no deviation from the final delivered product after the model room.
How did Samuelson help make this project successful?
Anytime problems arose – which they do on every project - Samuelson stepped up and solved the problem while asking the right questions. They are a very trusted partner.
What are the three things that Samuelson did during this project to make your life easier?
Physical presence, commitment, and an involved project management team. They made many concessions to be a part of this iconic project, and they were fantastic all the way through.
What projects have you worked on with Samuelson that made you sure they were the right vendor for this job?
We've done many. Right now, we are partnering with them on the Intercontinental San Juan and the Epic Hotel in Miami to name a few.
Parker is a renown purchasing agent with many successful stories under its belt. It seems logical that a company like MCR would like to work with you but what do you think are Parker's main strengths on making sure a project like TWA is successful?
Working with four design teams is always a challenge unto itself, as is understanding design idiosyncrasies from all four. Being able to look ahead before a problem occurs and troubleshoot, providing multiple options for problem resolution, is another strength of ours. The Parker Company excels at these types of projects, as we possess a strong aptitude in how to approach the complexity of a project. As the only purchasing agent in our industry with our top echelon of team directors possessing over 215 combined years of team experience, we bring a successful completion to any project of this caliber.
Have you stayed at TWA hotel once opened? What is your favorite part?
I have stayed there twice. It was an honor to be invited to this important party for the community. This is just one of the most incredible properties I have ever done. It was quite a measurable accomplishment, and we were so happy to play the part we did to contribute in making this happen. Looking back, this is one of the most unique projects ever done in my career and also one of the most notable projects we've done at Parker.
Have you had the chance to stay at the new TWA hotel? Post your pictures in the comments!