Don't expect a major design shift in 2017, this year is more about the maturation of ongoing trends. It's a focus on evolution, rather than revolution, as shifting societal behaviors push hospitality designers to tweak, change and flesh out concepts they've been exploring.
But just because there isn't a massive a-ha moment expected in hospitality design this year, that doesn't mean current trends are any less critical to both the hotel owner and development community, and the consumer end-user. Moments this year will be more relaxed, but just as essential for creating customer satisfaction.
Here's what designers are focusing on when designing furniture this year.
Technology
Technology is a central slice of all our lives. So, naturally, it's become an integral way in which we experience guestrooms as hotel customers. Nothing is simply a piece of furniture anymore; it's a mechanism connecting us to our smart phones, iPad's, laptop computers and more. This year is about furniture containing more technology such as LED lighting, data ports, USB charging stations and concealed outlets.
But technology mustn't come at the expense of a great visual aesthetic and unrelenting quality. This year is about blending high tech and high style in ways that impress guests. Samuelson is the leader when it comes to the marriage of furniture with technology.
Custom Creations
In the four and five-star market, we're seeing a continued advance of custom furniture for hospitality. Hoteliers and developers understand to be successful with so many sophisticated competitors, it's critical to make an emotional connection with guests. One way to do that is with bespoke furnishings in guestrooms and public spaces.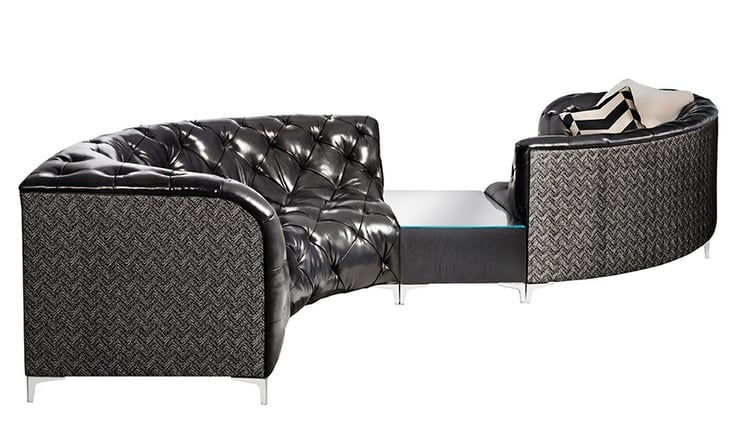 Samuelson is helping designers bring their original visions to life in 2017 by purchasing new equipment to shorten product development times; 20 new machines in all. We now have highly advanced Computer Numeric Control (CNC) machines enhancing our ability to create custom hotel seating, public area furnishings, and custom furniture for hospitality specialty products.
Return to Tradition
Guestroom design has been featuring "semi-millwork" furniture combining desk, dresser and beverage cooler cabinets, for example. That trend is being supplanted by a return to freestanding pieces prompted by customer behavior shifts regarding how guests utilize personal space. Classic forms and shapes are back, but contemporized with cleaner lines and/or new finishes. This trend is also gaining more traction as select service hotels build smaller hotel rooms whilst simultaneously putting more focus on hotel lobby furnishings, which are becoming more residential in style. Samuelson is forward thinking on these trends and has products that match this new design sensibility.
Smaller Rooms, Creative Solutions
Yes, hotel rooms are getting smaller. The prevailing wisdom is younger guests would rather enjoy being together in the hotel lobby spaces. Even when not feeling social, the millennial minded hotel guest enjoys public space energy, even if they would prefer to sit alone and get some work done. Smaller guestrooms mean bigger challenges. Now, rooms are being reinvented in ways necessitating re-imagining furniture. For rooms with a smaller footprint, multi-use products are coming into vogue. Custom hotel Cabinets with a pullout section revealing a bar and amenity center, or a drawer housing a fully operational dining table top are some of the solutions for tighter spaces. Plus, they keep the room looking neat and clean. When combined with custom finishes and fabric applications, these products become highly experiential.
In all, we expect 2017 to be a year in which customers continue to expect more from hospitality furnishings. Pieces making guests feel at home when away from home, whether in the room or in one of the hotel's public spaces. It's an exciting time to be in our business and, we look forward to helping drive trends with our valued partners all year long.
Samuelson is here for its customers. Whether it be through long standing relationships or those just joining the Samuelson family, we'd love to talk about how we can help you create great guest memories. To learn more about the Samuelson difference, give us a call at 888-289-4489 or email us at info@samuelsonfurniture.com and be sure to check us out at www.samuelsonfurniture.com.